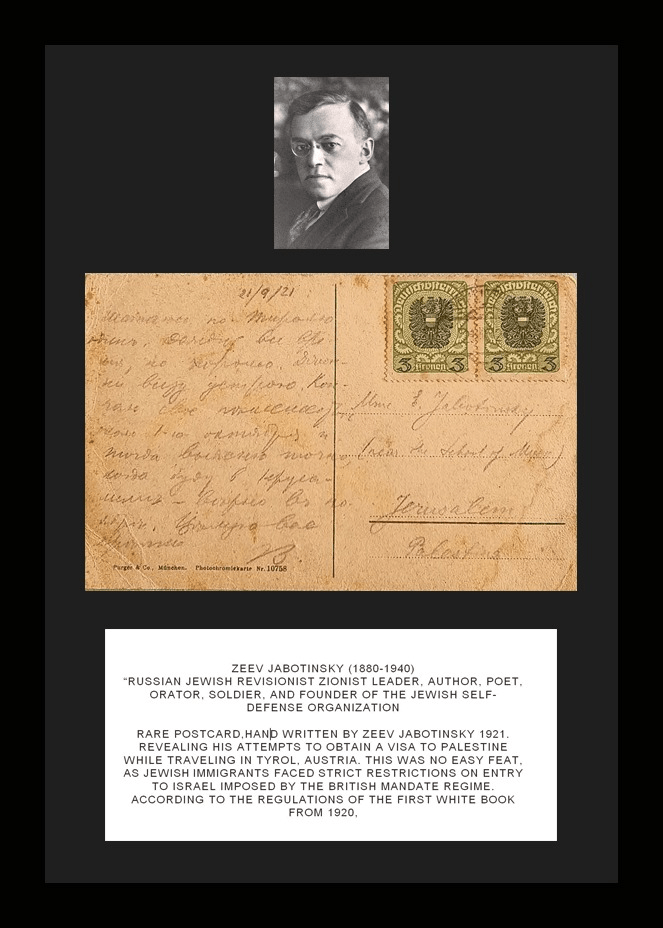 07 Mar

Incredibly Rare Original Postcard by Ze'ev Jabotinsky 1921- Insight into His Journey towards Creating Jewish State
Postcard written by Ze'ev Jabotinsky in 1921.
provides a fascinating insight into the life of this legendary figure during a crucial moment in his journey toward creating a Jewish state.
In the postcard, Jabotinsky reveals his attempts to obtain a visa to Palestine while traveling in Tyrol, Austria.
This was no easy feat, as Jewish immigrants faced strict restrictions on entry to Israel imposed by the British Mandate regime. According to the regulations of the first White Book from 1920, the British limited immigration to Israel based on the country's "economic absorption capacity," with quotas primarily granted to those with financial means, relatives in Israel, students, and people with certain professions.  This left many Jews unable to immigrate to Israel, even during the great immigrations of the fourth and fifth waves.
Jabotinsky's
urgency and determination to enter the country are evident in his plans to visit Jerusalem between October 1 and 10, despite the difficult circumstances. The postcard
was written just months after Zabotinsky was elected to be the Zionist  Executive, a limited committee of the World Zionist Organization, at the 12th Zionist Congress in August of 1921.
Jabotinsky
was a Zionist leader and one of the most influential Jewish activists of the 20th century. He was a key figure in the creation of the Jewish Legion during World War I, which played a pivotal role in the establishment of the State of Israel. He was also a prolific writer and orator, advocating for Jewish rights and independence at every turn.
This postcard is a remarkable piece of history documenting the struggles and determination of one of the most influential figures in the Jewish national movement.