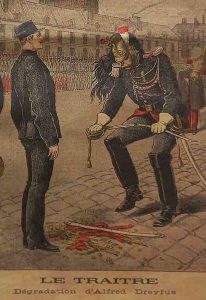 17 Apr

DREYFUS AFFAIR "ALFRED DREYFUS DEGRADATION CEREMONY", JANUARY 13, 1895
RARE Le Petit Journal "Alfred Dreyfus Degradation Ceremony", Magazine January 13, 1895
Full Magazine 8 pages  Framed
The paper Le Petit Journal was one of the extreme opponents to Alfred Dreyfus, known for denouncing him harshly
Illustrations in color were printed on the first and last pages of each issue depicting, among others, the Dreyfus Affair events. Among the illustrations appears the famous illustration documenting Dreyfus's degradation ceremony during which his sword was publicly broken. Illustrations by different illustrators: the French illustrator and caricaturist Henri Meyer (1844-1899), Lionel Royer (1852-1926), Damblans (Eugène Damblanc, 1865-1945) and more.


Illustrated supplement to the French magazine, Le Petit Journal, published in France from 1890-1920. The cover illustration is captioned: "Le Traitre, Degradation d'Alfred Dreyfus." The Dreyfus Affair was a political scandal revolving around antisemitism that inflamed late 19th century France. Alfred Dreyfus was an army captain found guilty of treason in 1894 for selling military secrets. Antisemitic publications used Dreyfus as a symbol of the disloyalty of all French Jews. Emile Zola wrote a letter to protest the verdict, titled J'Accuse, in which he accused the French Army of covering up its unjust conviction of Dreyfus. Zola was charged with libel and the Dreyfus Affair grew into a national political crisis. An Army intelligence officer was found to have forged the document proving Dreyfus's guilt. But in a second trial, the Army again convicted Dreyfus, who was then pardoned by the president to end the crisis.