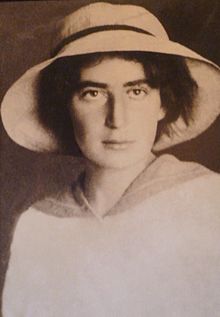 23 Feb

Rahel The Poetess "Founding Mother" of Modern Hebrew Poetry- Signed Letter
Rahel Bluwstein is rightfully considered the "founding mother" of modern Hebrew poetry by women.
In the thousands of years that elapsed between the poetry of Deborah the Prophet and the early twentieth century, virtually no Hebrew poetry was composed by women. During the renaissance and flowering of modern Hebrew poetry, which produced such poets as Bialik and Tchernichowsky, there were no women poets. It was only in the 1920s that women began to write serious poetry, with intellectual intent, in Hebrew. Rahel, along with the other women poets who began to write and publish at this time—Esther Raab, Yokheved Bat-Miriam, and Elisheva—initiated a trend that introduced new stylistic, linguistic and figurative possibilities into Hebrew poetry.
Of the four pioneering women poets, Rahel was the most admired, although her success came only late in life and, even more so, after her death. During her lifetime, she enjoyed some recognition, but this did not presage the extent of her future popularity. Rahel's writing had an obvious impact on future generations of men and women poets. More than twenty different editions of her collected poetry and other writings have been published since her death, and a new edition of her poetry joins the library of Hebrew literature every few years. Many of her poems, among them "Zemer Nogah," "Gan Na'ul" and "Kinneret," have been set to music and have become an integral part of Hebrew culture. Thanks to them, Rahel has achieved the status of an eminent, beloved national poet.
Rahel Bluwstein was born in Russia in 1890 and moved to Palestine in 1909, where she became the first student on Hannah Meisel's training farm for young women at Kevuzat Kinneret. Rahel spent two years at Kevuzat Kinneret until, in 1913, at Meisel's insistence, she was sent to France to continue her agronomy studies. With World War I leaving her stranded in Europe, she moved to Odessa and worked at a children's refugee home, where she contracted tuberculosis. In 1919, she returned to Palestine and settled at Kevuzat Deganyah as an agronomist until she was forced to leave due to her illness. In 1925 Rahel moved to Tel Aviv, reaching the peak of her poetic output until her death from tuberculosis in 1931 at the age of 41.