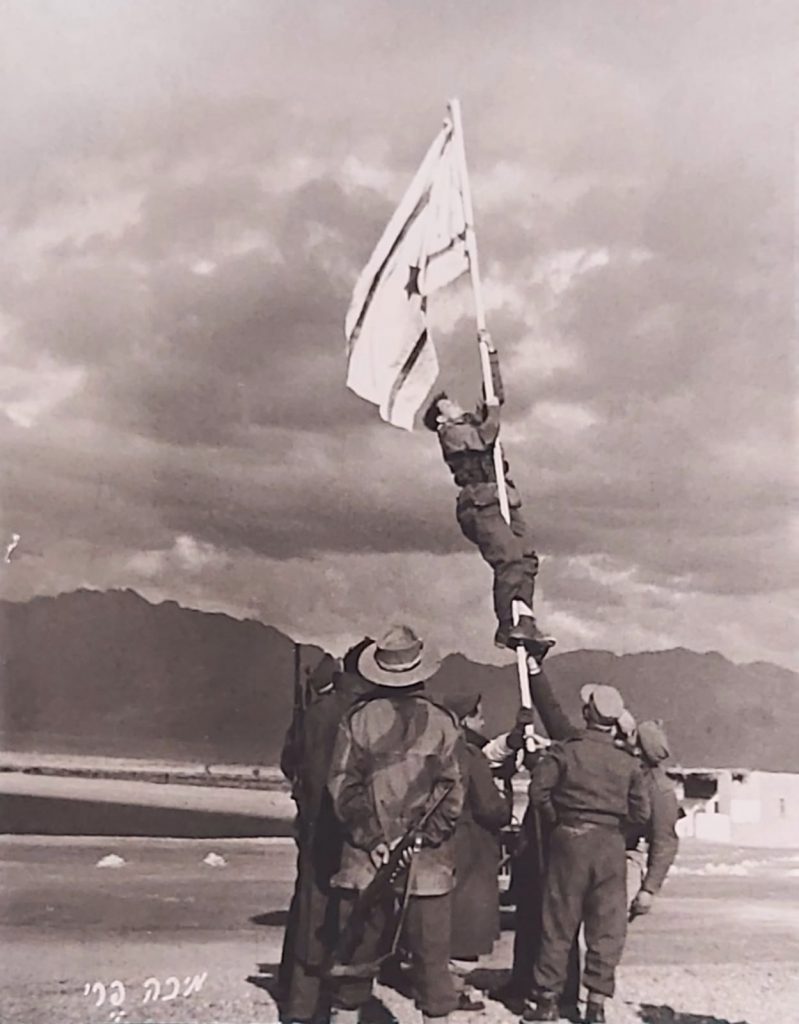 13 Jun

Raising of the Ink Flag – Israel War of Independence 1949
Raising of the Ink Flag
Israel War of Independence 1949
In the past, no one asked the Arabs if it was allowed to raise the Israeli flag anywhere in Israel.
Israel is currently going through a difficult period. At first Corona and then a war with the Hamas, missiles on civilians around the country, civil wars between Arab and Jewish citizens of Israel and exhausting government elections. And all because of the raising  the Israeli flag in the sovereign territory of Israel. We have won all the wars and challenges and now Hamas is threatening Israel that if the flag parade takes place in Jerusalem they will destroy Israel and I do not know whether to laugh or cry.
It is not a question of whether you are Zionist or religious or secular or right-wing or left-wing
A flag is a symbol of national identity and part of the basic rights of the citizen
I ask the reader!
Is the Frenchman asking himself the question whether to raise the French flag in Paris and if anyone can stop it?
Does the US citizen need permission from the President of Iran to raise the flag in Washington?
Should a German citizen ask Erdogan for permission to march with the German flag in Berlin?
The answers are clear to everyone
"they do not need any permission from anyone"

So my conclusion is that even the Israeli should not ask anyone and raise a flag in Jerusalem at any time and anywhere because Jerusalem is the capital of Israel and no one will decide or threaten Israel because of waving a flag in Jerusalem.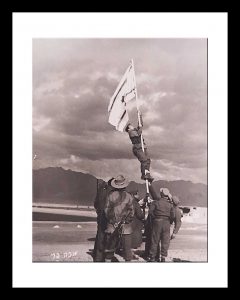 In honor of these events and to remind everyone that Israel is a democratic and free country
The Farkash Gallery presents a rare collection of historical photographs of the raising the ink flag in Eilat (Umm Rashresh) during the War of Independence 1949
The Ink Flag was a handmade Israeli flag raised in March 1949 during the 1948 Arab–Israeli War to mark the capture of Umm Rashrash.
On 5 March 1949, Israel launched Operation Uvda, the last military maneuver of the 1948 Arab–Israeli War. On 10 March, the Israeli Defense Forces reached the shores of the Red Sea at Umm Rashrash, west of Aqaba in the area of biblical Elath, and captured it without a battle. The Negev Brigade and Golani Brigade took part in the operation. A makeshift flag created from a white sheet inscribed with ink was raised by Captain Avraham Adan, company commander of the 8th Battalion of the Negev Brigade.[1]
The improvised flag was made on the order of Negev Brigade commander Nahum Sarig, when it was discovered that the brigade did not have an Israeli flag on hand. The soldiers found a sheet, drew two ink stripes, and sewed on a Star of David torn off a first-aid kit In Eilat.
The photo of the raising of the Ink Flag, taken by the soldier Micha Perry,