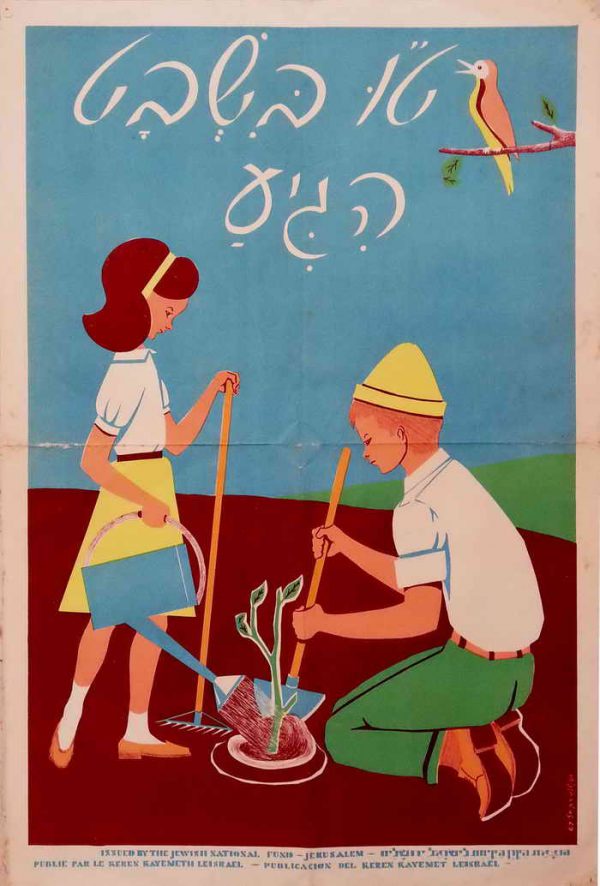 01 Feb

Vintage Tu Bishvat Posters
This week we celebrate Tu Bishvat, known as the New Year for the trees, in honor
of the holiday
the Farkash gallery presents a collection of Tu Bishvat Vintage Posters.
Tu Bishvat is marked on the fifteenth of [the Hebrew month of Shvat].
In terms of Jewish law, this day was used to mark how various tithes and offerings from fruit trees were divided. Fruits grown before Tu Bishvat were considered fruits from the previous year, while fruits grown after Tu Bishvat were considered fruits from the next year.
According to the Talmud, the date was chosen as it marked when most of the rain of the winter season had already fallen and fruits begin to emerge. Any fruits grown after this date were considered to be growing from the rains of the new year.
In modern day Israel, Tu Bishvat has become a day of environmental awareness, when many Israelis plant trees throughout the country.
In 1890, Rabbi Ze'ev Yavetz took his students to plant trees in Zichron Yaakov. This custom was adopted later by the Jewish National Fund. Today, we celebrate with a combination of tree planting and seders of different shapes and sizes. All of these activities share the commendable purpose of promoting awareness and the love of agriculture and nature in our country, much of which was transformed from desert and wasteland to a flowering, productive swathe of land, by pioneers and those who were inspired by them.